Ferrari mechanic suffered a broken leg when he was run over by Kimi Raikkonen during a pit stop in the Bahrain Grand Prix.
The mechanic, named by Ferrari as Francesco Cigarini, was taken to a nearby Bahraini hospital on Sunday night after the dramatic incident on lap 36 when Raikkonen pitted for a second time.
Raikkonen was not at fault for the collision. He was instructed to leave his marks after a green light was issued, but his left-rear tyre was still to be fitted.
Unaware, Raikkonen knocked the Ferrari crew member down as he pulled away at speed. The mechanic was laid flat out on his back in obvious agony. Raikkonen stopped in the pit lane seconds later after realising what had happened.
Ferrari will launch a full investigation into the harrowing incident that left a mechanic with a double leg fracture after the FIA fined the Italian team €50,000 (£45,000) for 'releasing the car in a manner endangering team personnel and causing injury' on Sunday.
The mechanic has successfully undergone surgery in Bahrain.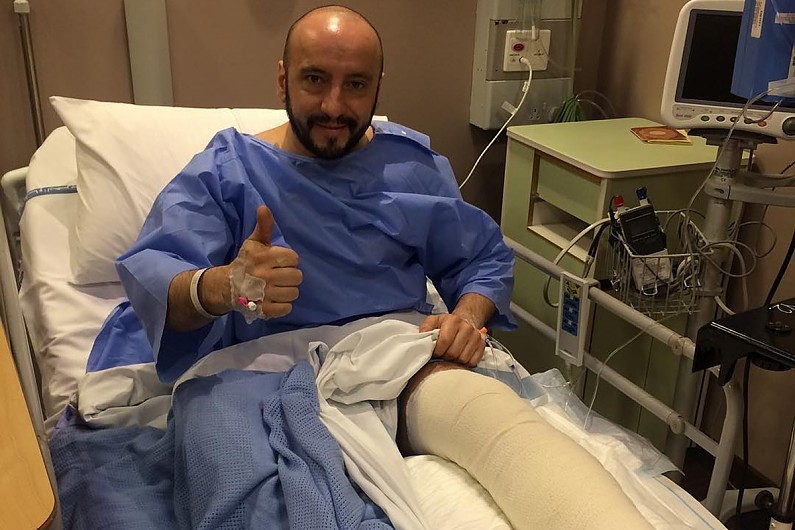 Commenting on the accident, Raikkonen, who retired from the race, said: 'My job is to go when the light is green. We did not finish the race, so it is not great but this can happens sometimes.'
Raikkonen's Ferrari team-mate Sebastian Vettel claimed his second victory in as many grands prix after holding off a late surge from Valtteri Bottas, but his triumph will be bittersweet for the famous Italian team.
'I am a bit sad, because in the pit stop with Kimi one of our mechanics got injured,' Vettel said. 'I send him the best regards, and I'm sure the guys are looking after him.'
Lewis Hamilton, who finished third, posted a message to his Twitter account following the race.
'My thoughts are with the injured mechanic,' he wrote. 'I wish him a speedy recovery.'
Source Credit: Daily Mail
Comments