AT least 10 shops suffered major damage in a massive blaze that erupted inside the Manama Suq yesterday, leading to hundreds of thousands of dinars in estimated losses.
Three silver jewellery shops and a garment retail store were gutted, while four ready-made outlets, a watch shop and two electronic shops sustained smoke and water damage.
A total of 13 fire engines and 49 firemen fought the blaze for more than four hours in the Qassim Al Mehzza Avenue on Shaikh Abdulla Road in the old Manama Suq.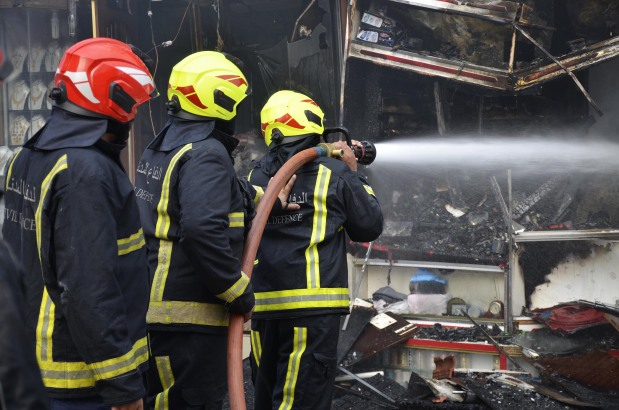 A number of other nearby shops also reported damages from the blaze which, according to witnesses, started from Waheed jewellery's workshop.
However, no injuries were reported.
"It was around 8.45am and I was opening my shop, which is opposite to Waheed Jewellery, when I saw a small fire on the second floor of the jewellery workshop," said Usman Puliachery, owner of Khanis Trading and Boutique, one of the damaged shops.
"The fire alarm went off and it was all over, but within 10 minutes it rose up in high flames and all we could do was run.
"The fire quickly spread to the other shops on the same row, as it was windy.
"The fire engines were here at around 9.20am, as it was a narrow alley and it was difficult for them to reach.
"I had renovated my shop recently and had stuff worth over BD100,000, which I believe is completely destroyed."
An investigation has been launched into the cause of the fire, said the Interior Ministry.
Close to 15 families were also evacuated from a nearby residential building, while electricity was disconnected in the entire block for more than four hours.
Police also evacuated the nearby shops and roads in and around Manama, and all roads leading to Shaikh Abdulla road remained closed until midday.
"(The cause of the) fire should be an electric fault as it started from inside the workshop and the air-conditioners exploded," said Surendran Perumal, owner of Sharq Al Arab garments.
"My shop and store were completely damaged, partly gutted and the rest affected with smoke and water.
"I had more than BD15,000 worth of stock including new winter clothes and blankets which I bought from Dubai last week."
The other shops included Top Electronics, Zaharaq Khaleej jewellers, Max City Trading, and Al Iqhthiar garments, each of which was suspected to have lost at least BD15,000.
"Business already is low with less than 50 per cent customers this winter compared with the last," said Top Electronics owner Mohammed Edecheryy.
"We don't know what the actual loss is, but I am sure it is huge and we hope officials will help us reopen our businesses soon.
"We urge for financial compensation from the authorities."
The GDN reported in April that a gas cylinder explosion in the same area had prompted calls for a revamp of the traditional suq to be fast-tracked.
Three gas cylinders outside Iram Tower restaurant, located just metres from Bab Al Bahrain Police Station, exploded on April 3, which the Interior Ministry blamed on a gas leak.
No one was hurt in the blast which completely destroyed one building and damaged surrounding properties and at least a dozen cars.
Source Credit: Gulf Daily News