It was meant to be a given that a rebound in oil prices would slow the depletion of Saudi Arabia's foreign-currency reserves. That hasn't happened yet, and economists are wondering why.
Net foreign assets held by the Saudi central bank have fallen by an average $6.5 billion a month over the past year, and now stand at just over $500 billion – having peaked at $737 billion in 2014 when oil prices were above $100 a barrel. The drop in January and February was $11.8 billion and $9.8 billion respectively, the latest data show.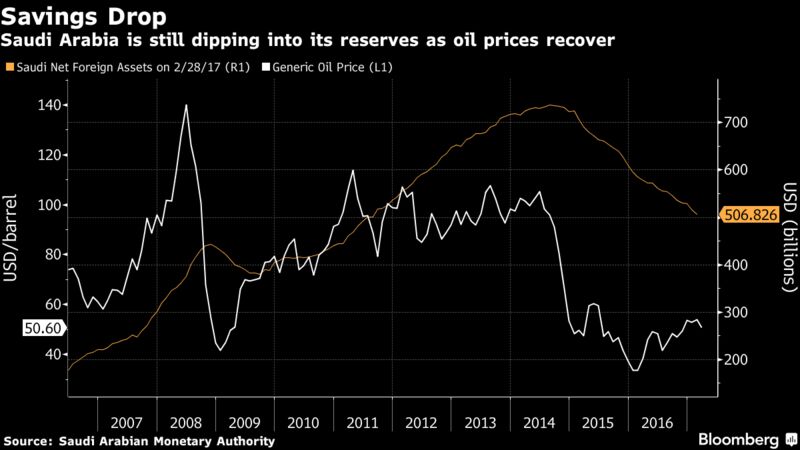 "The burn rate is a cause of concern because it shows no sign of abating," said Mohamed Abu Basha, a Cairo-based economist at EFG-Hermes. "It can't be explained by government spending alone. They haven't sold domestic bonds, so that could be a reason, but on the other hand, they have had more revenue because of the increase in oil prices."
As Saudi Arabia's long-term plan to wean the kingdom off oil takes a toll on growth, officials are trying to strike a balance between stimulating the economy and keeping enough savings to prevent speculation about a currency devaluation. While the government has said that it will finance its budget deficit by drawing on reserves as well as by issuing debt, it doesn't explain monthly movements in net foreign assets or predict the pace of decline.
Policymakers are also trying to avoid financing the deficit with domestic bonds due to last year's banking liquidity squeeze, according to Monica Malik, chief economist at Abu Dhabi Commercial Bank.
"We expect that the authorities will look to reduce the pace of foreign-exchange draw-downs in the coming months," she said.
The decline in oil revenue has damaged Saudi's public finances, with the budget deficit rising to $79 billion in 2016, or $107 billion including delayed payments to contractors. The government is pushing ahead with its blueprint for a post-oil era, which includes subsidy cuts and new taxes as well as a plan to expand its sovereign wealth fund into the world's largest.
Apostolos Bantis, a credit analyst at Commerzbank AG in Dubai, said Saudi Arabia still has breathing room and expects no change to currency policy, or any plan to devalue the riyal, unless net foreign assets fall below $350 billion. Though reserves are falling faster than expected, the overall level still remains high relative to historic levels, he said.
"The reserve levels are still ample and there is significant borrowing capability on the government balance sheet, as long as oil prices remain above $40," said Emad Mostaque, chief investment officer at Capricorn Fund Managers. "Their goal for stabilization long-term is not to rely on hydrocarbon flows, but to ramp up foreign direct investment and overseas dividends." (source credit – Bloomberg)
Comments