At the office of Qatar's national human rights committee, those most affected by the week-long Saudi-led blockade against the tiny emirate come each evening to seek help, clutching their documents.
Many have been directly affected by the decision announced by Saudi Arabia, Bahrain and the United Arab Emirates last week to order Qataris out of their countries, part of an escalating dispute over accusations the emirate is supporting terror and regional unrest that resulted in airspace, and land borders with Qatar, being closed.
"We've seen 700 people already in the past week," said one official at the centre. "Every night it's been like this."
Those coming for help face myriad problems: families of mixed Gulf nationalities have been threatened with separation; others have lost jobs or places in education during the crisis.
Officials tell the story of a Saudi man who died at Hamad hospital in Qatar, and whose sons were allegedly prevented by Saudi Arabia from attending his funeral, a reported incident that has gained wide currency inside the emirate.
It echoes similar accounts gathered by human rights groups, including Amnesty, and by the Guardian, describing similar cases.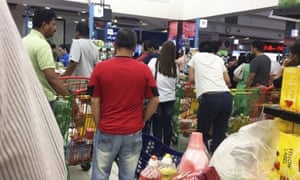 Among those seeking help are not only Qataris affected by the crisis, but Saudis and Bahrainis resident in the emirate.
Fawaz Abdullah Bukamal, 35, is a Bahraini media worker for a Qatari sports channel. Resident in Qatar since he was one month old, last week he was dismissed from his job because of the crisis and ordered by Bahrain to return home.
"But I can't go back to Bahrain. My life is here and my wife, who is Bahraini too and in hospital expecting a baby. In Bahrain we don't have anywhere to live or have employment.
"I want to stay and I'm asking the government here to help me."
The seriousness of the situation has led Amnesty to warn that new restrictions, imposed a week ago, are tearing families apart. The group documented the case of a Saudi Arabian man living in Doha with his Qatari wife, unable to visit his seriously ill mother in hospital in Saudi Arabia.
"[If ] I go home," he said, explaining his dilemma, "I can't see my wife. [If] I stay here, I can't see my mum."
Amnesty has also described the situation of a newlywed Qatari woman, who told researchers she had been in the process of moving to Bahrain to live with her husband, a Bahraini national, when the measures came into force.
"I was so happy. Before the ban, while I was looking for a job in Bahrain, I would go there every weekend to see my husband, my family, my house. When they did this, how could they not think of the people?" she said.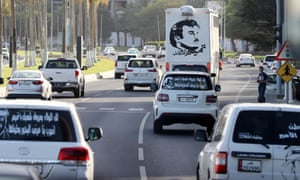 Although on Sunday, Saudi Arabia, the UAE and Bahrain announced that they planned to "take into consideration" the impact of the crisis on mixed-nationality families, few are convinced that it will mitigate the problems.
As the cases brought to the national human rights committee make clear, the embargo has hit all aspects of the shared social fabric of the Gulf region.
Among those waiting to be seen at the centre on Sunday was a 28-year-old Qatari woman, who asked to remain anonymous, and who had recently bought two apartments as an investment in the UAE.
"Because they cut relations, now I don't know what will happen to [the apartments]. I waited for almost a week before deciding to come here," she said.
"It was an investment for my future. I have to carry on paying the loan but even my bank account in the Emirates is frozen, I'm told. I am really worried.
Another widely affected group has been Qatari students in neighbouring countries, some paying up to $40,000 (£31,400) a year for an education that has now been put on hold just before the end-of-year exams.
Among them is Dana al-Mansouri, 22, a third-year medical student. "I'm studying in the Emirates in Ajwan city," she explained. "When we heard the announcement last Monday [saying Qataris had 14 days to leave] I went to the chancellor.
"It was just before my exams and they said at first that they would try and come up with something to help. Then I had a call saying, 'It's not legal for you to do the exams,' and they said, 'You have to leave the country.' This was last Tuesday.
"It was so bad. It was mentally exhausting. Now I'm happy to be home where I feel safe. It's a lesson that I've learned."
On Tuesday, Qatar moved rapidly to open an air and sea bridge via Iran, Turkey and port facilities in Oman, in an attempt to ease the blockade and allow food and supplies to enter the emirate.
Full article: https://www.theguardian.com/world/2017/jun/14/human-cost-of-the-qatar-crisis-families-are-being-torn-apart
Comments