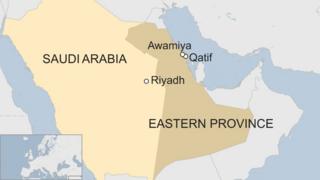 Hundreds of people have reportedly been fleeing a town in eastern Saudi Arabia after weeks of clashes between the security forces and armed men.
The authorities have been trying since May to demolish the old quarter of Awamiya, saying Shia militants use its narrow streets as a hideout.
Activists accuse security forces of trying to force out residents.
It is the latest intensification of sporadic unrest in the Eastern Province, which is largely Shia.
At least seven people, including two police officers, have been killed in the clashes, Reuters news agency said.
People in the town are running out of drinking water and electricity has been cut off in stiflingly hot temperatures, a resident told the BBC's Newshour programme, with the young, the old and the infirm especially badly affected.
"All of Awamiya is encircled and under siege," the resident said, adding that food is also in short supply.
Awamiya is one of the richest areas in Saudi Arabia because of its oil resources, the resident said.
"What we are talking about is the issue of forced migration [of Shia people] under the pretext of fighting armed resistance," he said, "with people not being allowed to return once they have left."
Some residents have appealed to the Saudi authorities to help them leave and families have been given accommodation in a nearby town, Saudi media reported.
In May the UN criticised the Saudi attempt to demolish Awamiya's 400-year-old al-Masora quarter, home to between 2,000 and 3,000 people, saying it threatened historical and cultural heritage.
The Saudi authorities had imposed power cuts on residents to try to make them leave, said the UN Special Rapporteur on housing, Leilani Farha.
Protests and attacks have become more frequent since the January 2016 execution of the prominent Shia cleric Nimr al-Nimr.
Comments