Safa Al-Hashem, the only woman in Kuwait's 50-seat parliament, is capitalizing on a growing resentment of foreigners to build support for a movement that's taking shape as the nation's ruling al-Sabah family withdraws some handouts in an era of cheap oil.
"Before asking citizens to pay, the government should reform the population mix by levying taxes on foreigners," said the 52-year-old former investment banker.
Al-Hashem's brand of populism is all the more striking because the nation exists only because more than two dozen countries came to its rescue 26 years ago to force out Saddam Hussein.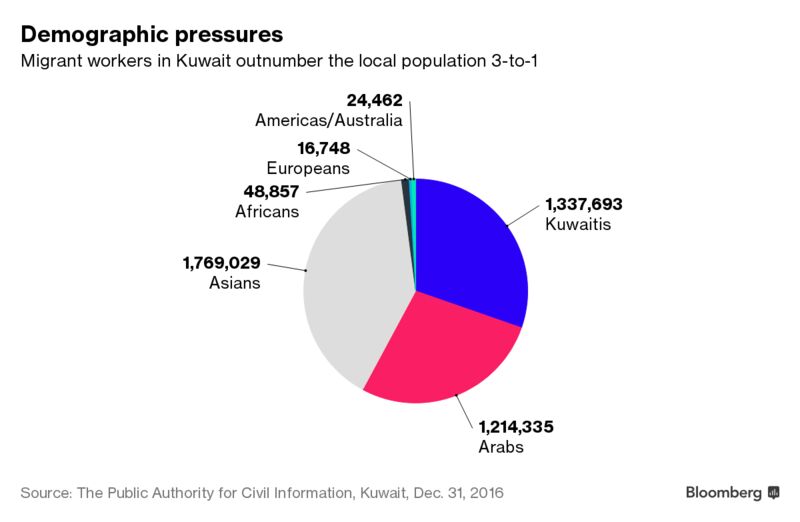 She wants the Egyptians, Syrians, Indians and Bangladeshis who do the plumbing and teach students to be deported — or get taxed for "walking on the roads" if they stay.
"They're sucking up the state's resources," said the politician who won her seat in a November election that saw Kuwaitis oust more than half of the incumbents to protest the first gasoline price hike in decades, which took the cost of premium fuel to 165 fils per liter, up 83 percent according to local press.
Meanwhile, pressure is intensifying for Kuwait to cut a subsidy bill that mushroomed five-fold to 5.1 billion dinars ($17 billion) in the decade to 2015. Reluctant to deplete its $592 billion wealth fund meant to preserve cash for future generations, the nation borrowed from the international debt markets for the first time last month, raising $8 billion.
Regular clashes between lawmakers and government officials appointed by the ruling al-Sabahs have delayed investment projects in recent years, leaving Kuwait behind peers in weaning its economy off oil. While parliament can make laws, veto state decisions and hold ministers to account, Emir Sabah al-Ahmed al-Sabah regularly dissolves it when tensions run too high.
It last happened in October after ministers came under fire for the subsidy cuts. But the election weeks later bolstered an opposition united in blaming foreigners for deteriorating public services.
Among them is Abdulkarim Al-Kandari. Speaking as two Egyptian kitchen staff served tea and Arabic coffee, Al-Kandari said his beef isn't with the guest workers who build skyscrapers, drive cabs or work in services. Kuwaitis don't want those jobs anyway. But he doesn't think foreigners should fill professional jobs like administrators and teachers when official unemployment among locals is 4.7 percent.
Part of the issue is pay since migrant workers accept a fraction in wages. University-educated Kuwaitis earned a median of 1,350 dinars ($4,426) a month in 2015 versus 490 dinars for similarly qualified expatriates, according to official statistics. The overall wage discrepancy was even starker: 1,113 dinars versus 120 dinars.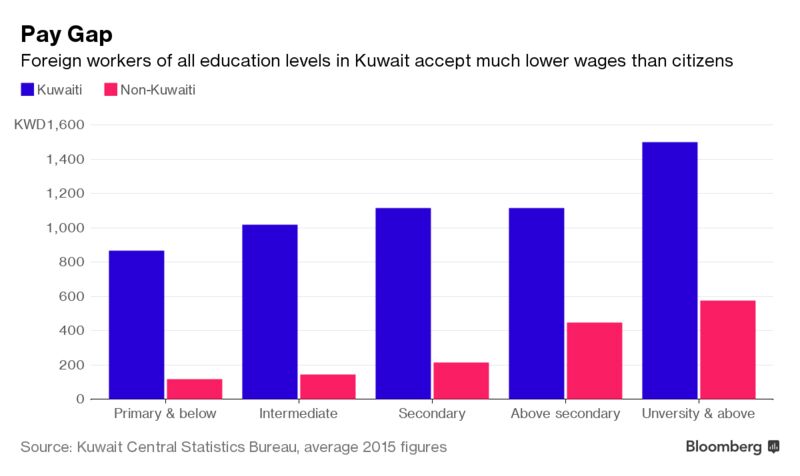 A recent survey of several Kuwaiti nationals showed opinion is divided on the urgency of change. Khalid Bouaraki, a government employee, said compatriots upset over subsidy cuts are "overreacting" because they can afford it. Perks exclusive to citizens include free land plots to build homes, interest-free loans, university and marriage grants and the occasional state write-off of consumer debt.
Along with lowering its dependence on oil and modernizing infrastructure, Kuwait's 2035 development plan envisions reducing the proportion of foreigners to 60 percent from the current 70 percent, according to local media.
But appeasing dissidents like Al-Hashem, who wants businesses to take the burden from the state for funding benefits for foreigners, will take more than that. Since securing her seat, she's won support for a bill to overturn the gasoline price increase, lobbied vigorously to make migrant workers buy medical insurance and proposed an expat-only road tax to ease traffic congestion. (source credit – Bloomberg)
Comments