Italy: 2,651 new cases, 189 new deaths
2,651 new cases, 189 new deaths, and 213 new recoveries in Italy.
Death toll tops 1,000
Comments
-Advertisement-
India: First death confirmed
76-Year-Old Karnataka Man First To Die Of Coronavirus In India: Officials
Comments
New cases in the United States
– 1 new in Connecticut, for a total of 4 [source]
– 1 new in Texas, for a total of 24 [source]
– 5 new in Pennsylvania, for a total of 21 [source]
– 3 new in Virginia (including a Longwood student), for a total of 14 [source]
– 1 new in Louisiana, for a total of 4 [source]
– 3 new in Kansas, for a total of 4 [source]
– 1 new in New Mexico, for a total of 4 [source]
– 3 new in Delaware, for a total of 4 [source]
– at least 5 new cases in North Carolina for a total of 14 [source] [source] [source]
– 3 in Wisconsin, for a total of 6 [source]
– 23 new in New York State, of which 9 in New York, for a total of 62 in New York City and 242 in the state [source]
– 3 in Florida for a total of 34 [source] [source]
– 1 in California (Riverside County) for a total of 184 cases and 4 deaths
Comments
Sri Lanka
1 new case and second in the country – A 44-year-old man shared a hotel room in Dambulla with the first confirmed case
Comments
-Advertisement-
Czech government declares state of emergency
The Czech government declared a state of emergency Thursday over coronavirus, partly closing borders to prevent people from at-risk locations from entering the country.
The state of emergency imposes a ban on gatherings of more than 30 people and puts restrictions on public places such as restaurants, libraries and gyms.
It is due to last for 30 days.
Comments
Kuwait announces eight new cases
Kuwait today announced that eight people have tested positive with the coronavirus over the past 24 hours, bringing total number of persons infected with the virus to 75.
Comments
A mission to Mars has been postponed
A joint European-Russian mission to send a rover to Mars that was due to launch this year, has been postponed to 2022, partly because of the coronavirus outbreak.
In a joint statement, the Russian and European space agencies said that "further tests to the spacecraft with the final hardware and software are needed."
"In addition, the parties had to recognise that the final phase of ExoMars activities are compromised by the general aggravation of the epidemiological situation in European countries."
Comments
-Advertisement-
Princess Cruises stops trips on 18 ships for 60 days
Princess Cruises announced today it will voluntarily pause global operations for its 18 cruise ships for two months.
The company said it will offer guests the opportunity "to transfer 100% of the money paid for their cancelled cruise" to a future cruise.
Comments
UAE: 11 new cases confirmed
The Ministry of Health and Prevention in the UAE has announced 11 new cases of COVID-19, taking the total number of UAE cases to 85. The UAE has also announced 17 recoveries, so the active number of cases as of March 12 is 68.
New cases are 2 Italians, 2 Filipinos, 1 Montenegrin, Canadian, German, Pakistani, Emirati, Russian and British citizen.
Comments
South Africa reports first case of local transmission
South Africa has confirmed its first case of local transmission of coronavirus, after a 32-year-old man came into contact with a Chinese businessman.
Until now, all other cases in the country have been patients who had traveled abroad, South Africa's Health Ministry said Thursday.
It brings the total number of confirmed cases in the country to 17.
Comments
-Advertisement-
29 new deaths and 687 new cases in Spain
Comments
India: 10.5 lakh people screened at 30 designated airports
Comments
UK: Positive case reported in nursing home for older people
Nursing and residential home in Basingstoke in Hampshire has closed to visitors after a person tested positive for Covid-19.
Comments
-Advertisement-
Denmark: Nurseries, schools and universities closed for 2 weeks
Denmark's prime minister, Mette Frederiksen, has announced the closure of all nurseries, schools and universities for two weeks.
Comments
Entire Spanish cabinet to be tested for coronavirus
Every member of the Spanish cabinet is being tested for the coronavirus after the country's equality minister, Irene Montero, became the latest politician to test positive for the virus.
Her partner, the deputy prime minister and Podemos leader Pablo Iglesias, is in precautionary quarantine, the government said in a statement.
The government also announced that the prime minister, Pedro Sánchez, will be using videoconferencing for all his meetings and press conferences once today's cabinet meeting is over.
News of Montero's diagnosis comes days after Javier Ortega Smith, the general secretary of the far-right Vox party, was diagnosed with the virus. Vox also apologised for holding a 9,000-person rally in Madrid on Sunday as cases of the virus rose. Ana Pastor, the former speaker of the congress of deputies, tested positive for the virus on Wednesday.
Spain has now confirmed 2,277 cases of the virus, making it the second most affected country in Europe and the fifth in the world after China, South Korea, Iran and Italy. So far, 55 people have died from the virus in the country.
Comments
Ireland closes all schools and colleges
Ireland's taoiseach, Leo Varadkar, has announced the closure of all schools, colleges and childcare facilities from tomorrow as part of a partial lockdown that will apply from 6 pm tonight until 29 March.
All indoor gatherings of 100 people or more and outdoor gatherings of 500 or more will be cancelled.
Public transport will still run and shops will remain open.
Comments
-Advertisement-
Poland confirms first death
Poland has reported its first death from coronavirus, authorities said. So far 47 cases of coronavirus have been confirmed.
Comments
Saudi Arabia expands travel ban to and from EU, 12 more countries
Saudi Press Agency, quoting a source at the Ministry of Interior, the new list of countries to which travel to and from the kingdom will be banned and flights suspended include EU countries, Switzerland, India, Pakistan, Sri Lanka, Philippines, Sudan, Ethiopia, South Sudan, Eritrea, Kenya, Djibouti, and Somalia.
Comments
Death toll in Iran reaches 429
Iran on Thursday reported 75 new deaths from the coronavirus in the past 24 hours
The death toll has now reached 429
1,075 new confirmed cases of COVID-19 in the last 24 hours
Comments
-Advertisement-
Austria announces first coronavirus death
Austria announced its first death from the coronavirus on Thursday morning.
Vienna city authorities told CNN that the patient was a 69-year-old man who had recently travelled to Italy. He was treated at the Kaiser Franz-Josef hospital in the Austrian capital.
According to the country's health ministry, as of Thursday morning Austria has 302 confirmed cases.
Comments
FIBA Basketball suspends all competitions
The International Basketball Federation, or FIBA, announced today that it was suspending all of its competitions as of tomorrow.
The full statement reads: "Considering the current situation with the coronavirus (COVID-19) outbreak and in order to protect the health and safety of players, coaches, officials and fans, FIBA today has announced that all FIBA competitions are suspended as of tomorrow, Friday, 13 March 2020. FIBA will continue to monitor the situation on a daily basis and will evaluate the options for the continuation or not of the respective competitions when and if the situation allows for it."
This move comes after the NBA announced late Wednesday night local time that it was canceling its entire regular season.
Comments
China shuts down Everest
China has cancelled permits for Mount Everest because of the coronavirus, expedition organisers said Thursday, ahead of the spring climbing season on the world's highest peak. Last year's traffic-clogged spring window saw a record 885 people summit Everest, 644 of them from Nepal and 241 from the northern flank in Tibet.
Comments
-Advertisement-
Hubei limps back
Hubei province, where the coronavirus emerged late last year in December, announced on Thursday a further loosening of travel restrictions and will also allow some industries to resume production in two of its cities and two counties.
Comments
Italy closes most shops and restaurants as coronavirus death toll jumps 30% in 24 hours
Comments
Iceland Confirms 90 cases, one of the highest percentage infection rates
Iceland now has 90 confirmed Covid-19 cases, which is a country of only 364,000 people, could represent the highest percentage infection rate in the world.
Comments
-Advertisement-
California bans gatherings of 250 people or more until at least the end of March
Comments
Senate staff member tests positive
A staff member in Senator Maria Cantwell's Washington, D.C. office has tested positive for COVID-19.
Comments
2 New Cases Found At Veterans' Home In Lebanon
The Oregon Health Authority announced Wednesday two new presumptive positive cases of COVID-19 in Linn County. The new cases involve two males over the age of 80, living at the Oregon Veterans' Home in Lebanon, which houses 151 people. Those two cases bring Oregon's total to 21 novel coronavirus cases across eight counties.
State health officials said the Lebanon men hadn't traveled, had no known close contacts with confirmed cases, and so are considered community spread.
Comments
-Advertisement-
Cases in India Jump to 73
Total 13 fresh cases have emerged from Maharashtra (9) and Delhi (1), Uttar Pradesh (1) and Ladakh (1) says the Ministry of Health.
The Ministry of Health has confirmed the total number of cases to 73 in India. Kerala, Maharashtra and Uttar Pradesh have reported maximum cases across India. Of total 73 cases, 56 are Indian nationals, while 17 are foreigners. External Affairs Minister S Jaishankar told the Lok Sabha that there are about 6,000 Indian nationals in various provinces of Iran right now, including 1,100 pilgrims mainly from Ladakh, J&K and Maharashtra, nearly 300 students primarily from J&K. He said that the government was taking all the necessary steps to ensure their return.
"As the House would have noticed, where specific interventions are required – as in the case of Wuhan in China, the Diamond Princess crew in Japan or now the pilgrims in Iran, we will take necessary action," he told the Lower House.
Comments
Twitter makes work from home policy mandatory
Comments
Malaysia is tracking down 5,000 people who attended religious event
Malaysian authorities are trying to track down 5,000 citizens who may have been exposed to the new coronavirus at a religious event in the outskirts of capital Kuala Lumpur, Reuters reported on Wednesday.
A 53-year-old man from neighboring Brunei, who had attended the event, was confirmed on Tuesday to have been infected by the virus, according to the report. That's Brunei's first reported infection, the report said. The religious event took place at a mosque between Feb. 27 and Mar. 1, according to Reuters.
Malaysia has reported 149 confirmed coronavirus cases as of Wednesday, of which 26 have been discharged from hospitals, said the country's health ministry.
Comments
-Advertisement-
Chinese food delivery giant offers customers paper 'shield'
Food delivery is a huge business in China and it has become even more important during the coronavirus outbreak in China.
With people slowly starting to return to work, Meituan, one of the country's biggest delivery firms, has launched a new product it feels will help keep people protected from the virus.
It's a piece of cardboard that folds out into a 20-inch "independent space." Diners can eat their meals with their heads tucked into the shield. Meituan said the cover can effectively prevent meals from any water droplets that may come from their colleagues, particularly when people are eating in densely packed areas like office canteens.
So far, the shield initiative is being tested with eight restaurant chains across Shanghai and Beijing.
Comments
Prime Minister confirms 140 positive cases in Australia
Australian Prime Minister Scott Morrison said the country has 140 cases of the coronavirus in a statement earlier today. He didn't provide any breakdown of the numbers and their corresponding states.
It's a jump from just a few hours ago when the country's Ministry of Health released a statement reporting 126 cases nationwide.
Morrison also unveiled an $11.4 billion economic stimulus plan today, which will include wage subsidies and cash payments for small businesses, to counter the impact of the coronavirus pandemic.
Comments
South Africa reports first case of local transmission of coronavirus
Comments
-Advertisement-
European stocks down 6% after Trump travel ban
Comments
Thailand reported 11 new cases
Thailand reported 11 new coronavirus cases on Thursday, bringing the total number of cases in the Southeast Asian country to 70, health officials said.
All of the new patients had socialized and shared drinks, health officials said, adding that a tourist from Hong Kong had been the source of the infection.
"The Hong Kong tourist came alone and already went back. The 11 infected are all Thai," said Sopon Iamsirithawon, director-general of the Communicable Diseases Department.
Comments
Experimental COVID-19 Drug Gives New Hope to Afflicted
A US biotech firm has ramped up production of an experimental drug that has become a focal point for hopes of an effective treatment for coronavirus. Read More…
Comments
-Advertisement-
Juventus Centre-Back Daniele Rugani Tests Positive
Comments
The Kuwait Stock Exchange has suspended its operations
Comments
Hollywood Couple Tom Hanks and Rita Wilson Test Positive for COVID-19
Comments
-Advertisement-
NBA suspends its season
The NBA has suspended play starting on Thursday after a Utah Jazz player preliminarily tested positive for the new coronavirus.
Comments
Saudi Arabia reports first corona recovery
A Saudi citizen who was in medical isolation in Qatif Central Hospital in the Eastern Province has recovered and is currently in good health, the Ministry of Health said in a statement carried by the Saudi Press Agency.
Comments
-Advertisement-
Bahrain: Eye Clinic Closed for 2 Weeks
An eye clinic has been closed down after a COVID-19 patient visited the clinic. The well-known ophthalmology clinic made the announcement on March 11. Read More…
Comments
UAE urged citizens to avoid traveling to India
The UAE government has urged citizens to avoid traveling to India due to coronavirus fears, state news agency WAM reported.
The warning came after India said they will not allow any visitors with Indian visa into the country.
Comments
Bahrain: Nearly 50% Iran Repatriates Infected with COVID-19
Seventy-seven Coronavirus-infected cases were found in the first batch of evacuees who returned from Iran to Bahrain on Tuesday. Read More… 
Comments
-Advertisement-
Oman Air suspends flights to Saudi Arabia
Oman Air said on Wednesday it will temporally suspend all flights to Saudi Arabia to prevent the spread of the new coronavirus.
Comments
Here's the latest
This is now a pandemic: The World Health Organization has announced the new classification of the novel coronavirus as a pandemic, but cautioned that this doesn't mean the global health watchdog or individual countries will change their response. Calling it a pandemic just formally acknowledges that the virus is deadly, has spread worldwide, and has sustained person-to-person transmission.
The US has new travel restrictions: President Trump announced earlier today that travel from 26 countries to the US will be suspended for the next 30 days, beginning Friday at midnight. Several European ambassadors in the US say they had no warning of the announcement, and are still working to figure out what the restrictions mean.
Basketball is on hold: The NBA is suspending its regular season, after a Utah Jazz player tested positive for the coronavirus. The test result was reported just before the tip-off of Wednesday night's game between the Jazz and Oklahoma City Thunder at Chesapeake Energy Arena, which was immediately canceled.
Tom Hanks infected: The two-time Academy Award-winning actor and his wife, actress Rita Wilson, have been diagnosed with coronavirus and are being treated in Australia's Queensland state.
Cases rise worldwide: The US reported more cases today from several states — 43 states and the District of Columbia have reported infections. Australia, India, China, and South Korea are among the countries also reporting new infections today. As cases rise, major events around the world are being canceled, schools are being suspended and classes moved online, and people are staying home under self quarantine.
Comments
Greece reported its first fatality
Greece reported its first fatality from a coronavirus infection on Thursday, a 66-year old man who had returned from a religious pilgrimage to Israel and Egypt at the end of February.
The deceased had underlying health issues, the health ministry said in a statement. There were 99 confirmed cases of coronavirus in Greece by late Wednesday.
Comments
-Advertisement-
China quarantine hotel collapse left 29 people dead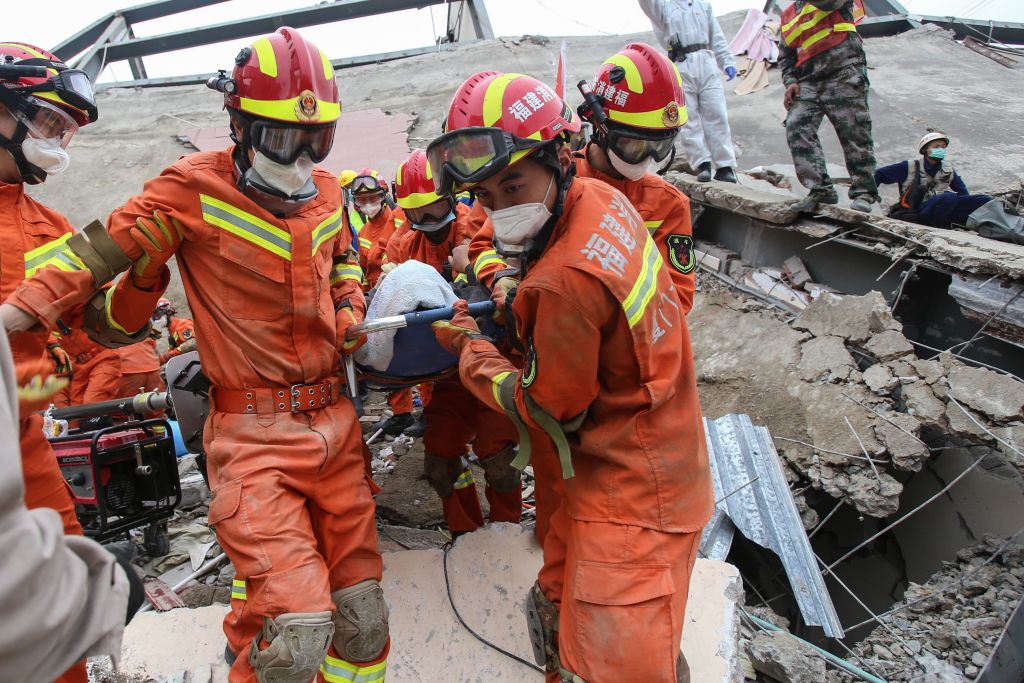 A total of 29 people have died after last week's collapse of a quarantine hotel in southeastern China, according to Chinese state media.
A hotel being used as a coronavirus quarantine center collapsed Saturday night with 80 people inside the building when it came down. Nine people escaped, leaving 71 trapped under the rubble.
All 71 are now accounted for, after nearly five days of search and rescue operations, according to state media.
At the time of the collapse, 58 of the 80 people were under quarantine in the hotel and all had tested negative for the novel coronavirus.
Comments
China: Cases drop to single-digit in Wuhan
The coronavirus cases continue to drop sharply in China which has reported 11 new fatalities, taking the death toll to 3,169, while in the worst-hit Wuhan, the confirmed cases for the first time dropped to single digit with eight new infections, amid a surge in "imported COVID-19 cases" in the country.
China's National Health Commission, (NHC) said on Thursday it received reports of 15 new confirmed cases of novel coronavirus and 11 deaths on the Chinese mainland on Wednesday.
However, there is a surge in total number of "imported COVID-19 cases" (people arriving from abroad) which rose to 85 on Wednesday, the state-run Xinhua news agency reported on Thursday. (PTI)
Comments
India confirms 8 more cases
India has confirmed eight more coronavirus cases in the state of Maharashtra, according to the state's chief minister.
Two of those cases were in the city of Mumbai, and six in Pune city. The patients are under observation in hospitals.
That raises the state's total to 10 cases, and the national total to 68.
Comments
-Advertisement-
All Travel from Europe to the United States suspended for 30 Days
Comments
United States
NBA suspends its season indefinitely after a player on the Utah Jazz has tested positive for COVID-19
Comments
California confirms two more cases
California confirmed two new coronavirus cases on Wednesday — one in Ventura County, and one in Riverside County, both close to Los Angeles.
Comments
-Advertisement-
Australia reports 126 confirmed cases
Australia now has a total of 126 coronavirus nationwide, the country's Ministry of Health said today.
The death toll remains at three.
 Here's how the cases break down across the states:
New South Wales: 64 cases
Queensland: 17 cases
South Australia: 8 cases
Tasmania: 2 cases
Victoria: 18 cases
Western Australia: 7 cases
Diamond Princess cruise ship: 10 cases
Comments
South Korea confirms 114 new cases and 6 more deaths
South Korea confirmed six new deaths and 114 more cases of the novel coronavirus yesterday, according to the South Korea Centers for Disease Control and Prevention (KCDC).
That raises the national death toll to 66 and the total confirmed cases to 7,869.
The number represents a drop again in new daily cases — on Monday, the country had recorded 131 new cases, the lowest single-day increase in weeks, sparking cautious hope that the worst of the outbreak may have passed.
Then, a new cluster was identified in Seoul — and the number of new cases shot up to 242 on Tuesday.
Comments
Saudi Arabia avoids gatherings exceeding 50 people
Saudi Arabia has called on people to avoid gatherings exceeding 50 people and to refrain from shaking hands with each other to prevent the spread of the virus.
The first recovery from the virus in the Kingdom was also announced on Wednesday, with the patient discharged from a hospital in Qatif.
Comments
-Advertisement-
Comments