China is Apple's third-largest market after North America and Europe, and mounting data from research firms shows iPhone 15 demand is sluggish after the launch in late September. This comes as Huawei Technologies Co.'s return to the mobile market with the Mate 60 series is a big hit.
Sales of iPhone 15 models in September (launch month) fell 6% compared with the prior year, according to Bloomberg, citing an estimate from market researcher GfK. For the third quarter, a separate report from mobile industry tracker IDC shows Apple's shipments were down 4% in the quarter. Both reports indicate that the Mate 60 series launch, one week before the iPhone 15 launch, dented sales for Apple. GfK said the Mate 60 series recorded sales of 1.5 million in its launch month, doubling from a year ago.
"Against the backdrop of the strong growth of Huawei, Apple iPhone 15 series registered a 6% decline in sales," said Hayden Hou, China senior analyst at GfK. Hou continued, "Huawei Mate 60 series will continue to maintain its strong sales momentum going forward."
The Mate 60's cutting-edge, made-in-China processor is a major victory for Chinese tech despite US sanctions on chips. Another developing issue for Apple is the Chinese government broadened a ban on iPhones at government agencies and state companies.
In mid-October, Jefferies and Counterpoint Research warned about sliding Chinese iPhone demand – just weeks after launch.
Jefferies analysts led by Edison Lee said, "The trend suggests iPhone would lose to Huawei in 2024 – We believe weak demand in China would eventually lead to lower-than-expected global shipments of iPhone."
What's worrisome for Apple is that it gets about 20% of its revenue from China. The apparent nationalism wave among Chinese consumers because of US sanctions appears to be shifting demand from iPhones to Mate 60 phones.
"We're seeing a lot of nationalism right now as Chinese consumers who think they've been wronged by the US government and sanctions are gravitating toward the Mate 60 and that is edging into Apple volumes," Jeff Fieldhack, research director at Counterpoint, told CNN earlier this month.
There are risks that the Biden administration's semiconductor restrictions are falling, as one tech insider revealed last week that the West won't hinder China's rise in chip advancements.
The latest iPhone 15 is equipped with 3-nanometer chips, whereas the Mate 60 series operates using 7-nanometer chips.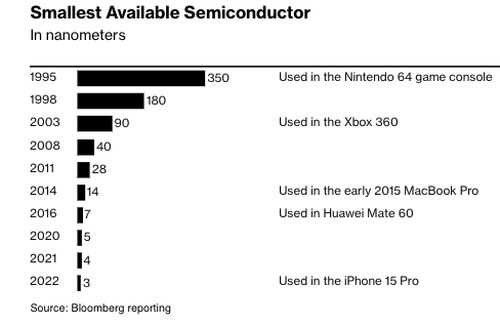 There are expectations that China will soon be running smartphones on 5-nanometer chips.
Comments