World
Oil Prices Hit 10 Month Highs as Azerbaijan Military Action Threatens New War
Oil prices rose for yet another day early on Tuesday, with Brent hitting $95 per barrel, as Azerbaijan said it had launched "anti-terrorist" operations in the Nagorno-Karabakh region with mostly Armenian population.
The Azerbaijan-Armenia tensions have been rising in recent months after Azerbaijan imposed a blockade on the ethnic Armenian region also known as Artsakh by Armenians but internationally recognized as part of Azerbaijan.
Last week, for the first time in three months, Nagorno-Karabakh received aid via Azerbaijan's Aghdam route, while Azerbaijan continues to block the Lachin corridor connecting the region to Armenia.
Today, Azerbaijan's defence ministry said that "local anti-terrorist activities have been launched" "to disarm and secure the withdrawal of formations of Armenia's armed forces from our territories, neutralize their military infrastructure." Azerbaijan said Armenia's armed forces targeted a vehicle with a land mine, killing two civilians.
Armenia, for its part, accused Azerbaijan of spreading false information in claiming that there are Armenian military, equipment and personnel in Nagorno-Karabakh. As of 2 p.m. local time on Tuesday, "the situation on the borders of the Republic of Armenia is relatively stable," Armenia's Ministry of Defence said.
Azerbaijan is an oil and gas producer and exporter and is part of the OPEC+ alliance of producers as a non-OPEC participant in the group currently withholding oil supply to the market.
While tensions in the restive Azerbaijan-Armenia region rise, oil prices were also up on Tuesday morning ET, with Brent topping $95 per barrel, the highest in 10 months, and WTI Crude up by 1.3% at $92.50.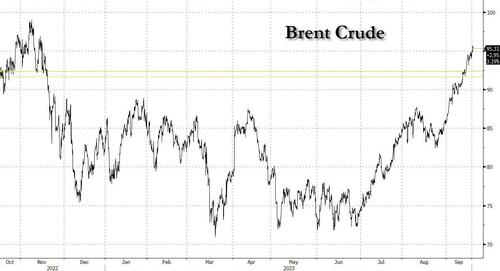 "A 15% rally in the space of around three weeks to trade at levels not seen since last November and not far from triple figures, it's been an impressive move and there could be more to come," Craig Erlam, senior market analyst at OANDA, wrote in a note on Monday.
Comments