OPEC's crude oil production rose in October by 80,000 barrels per day (bpd) compared to September, but the output at the countries bound by the OPEC+ pact continued to be well below the levels agreed, OPEC said on Monday.
Total production from all 13 OPEC members averaged 27.90 million bpd in October 2023, up by 80,000 bpd month-on-month, as output rose in Angola, Iran, and Nigeria, according to the secondary sources the cartel uses to track production levels. Oil output in Libya, Saudi Arabia, and Kuwait fell last month compared to September, per estimates from OPEC's secondary sources in the cartel's Monthly Oil Market Report (MOMR).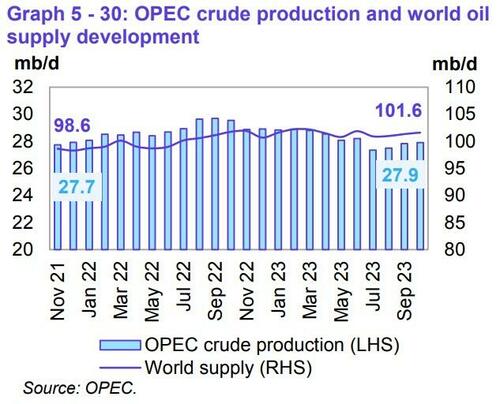 The official OPEC data shows little change compared to a Bloomberg survey which found earlier this month that the cartel's total crude oil production averaged 28.08 million bpd in October, around 50,000 bpd higher compared to September.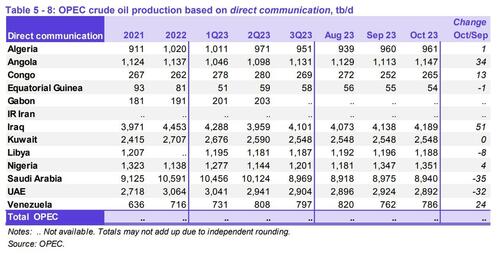 Despite the modest rise in OPEC's oil production, the collective output at the members part of the OPEC+ pact – without the exempted Libya, Venezuela, and Iran – continues to be well below the level in the OPEC+ agreement.
"Crude production in October remained well below the agreed level related to production adjustments under the Declaration of Cooperation (DoC). For example, Nigeria has seen some production increase, but remained well below its required production level," OPEC said in Monday's report.
"It is also important to add that the recent increase in OPEC crude exports reflects seasonal trends," the cartel added, noting that Middle Eastern crude exports, including from Saudi Arabia, tend to drop in the summer amid higher demand for cooling in the Gulf countries, and then rise in September and October.
Apart from the OPEC+ cuts, the voluntary Saudi and Russian production and export cuts "will contribute significantly to achieve and sustain global oil market stability," OPEC said.
Comments