Around 1,509,936 Umrah visas were issued since the season started in September, the Ministry of Haj and Umrah has said in its weekly statistical report.
The ministry said a total of 1,190,961 Umrah pilgrims have arrived in the Kingdom of whom 853,085 have departed for their respective homes after performing the minor pilgrimage.
It said 337,876 pilgrims were still in the country with 232,117 of them in Makkah and 105,759 in Madinah. The ministry said 1,094,403 pilgrims arrived by air via King Abdulaziz International Airport in Jeddah and Prince Muhammad Bin Abdulaziz International Airport in Madinah. It said 96,523 pilgrims arrived in the Kingdom by land and 35 by sea.
According to the ministry, Pakistan, with 394,143, came first in the number of the pilgrims followed by Indonesia with 233,792 pilgrims. India sent 196,726 pilgrims, Yemen 56,972, Malaysia 54,214, Algeria 32,709, Turkey 29,628, the United Arab Emirates 25,875, Bangladesh 23,368 and the United Kingdom 18,215.
The ministry said the pilgrims were served by a total of 8,635 Saudis consisting of 7,235 men and 1,400 women who are employees of Haj and Umrah companies.
It said its weekly statistical report is aimed at closely following the issuance of the Umrah visas and the arrival and departure of the pilgrims to ensure them with excellent services that will enable them to do their rites in ease, peace and comfort within the ministry's drive to realize the objectives of the Saudi Vision 2030, which aims to attract about 30 million Umrah pilgrims annually by that year.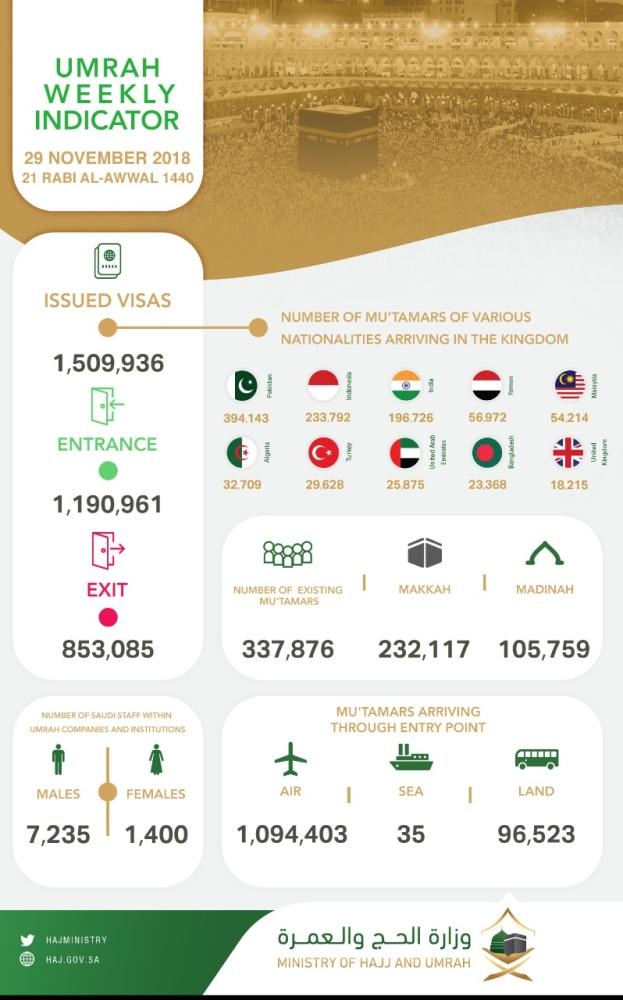 Source Credit: Saudi Gazette
Comments