Earlier this month, brokerage Evercore ISI published its survey of spending plans in the global exploration and production industry. Among other things, it confirmed what has been apparent for much of the year; namely that the supply cuts announced by Saudi Arabia, Russia and others last November hit the shale patch like a quadruple espresso.
In its previous update, based largely on responses gathered prior to the November pick-me-up, Evercore ISI said it expected spending on oil and gas in North America to rise by 21 percent in 2017. Roughly six months on, that's risen to 41 percent.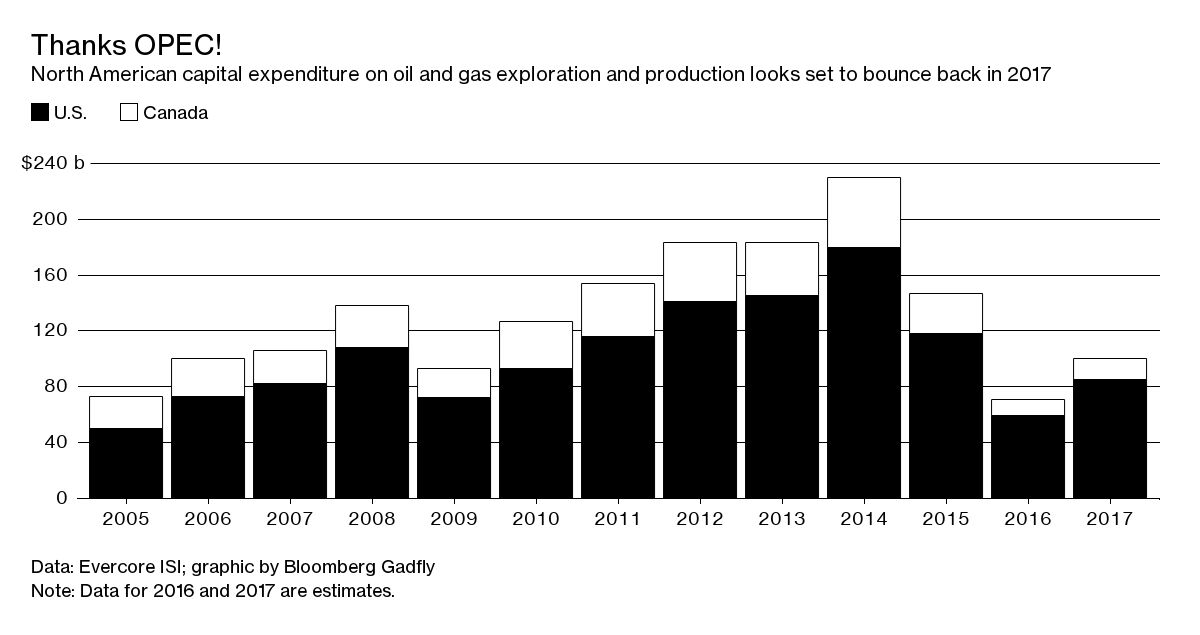 The more problematic data for Saudi Arabia and its fellow cutters concern the spending intentions of North American oil and gas producers if oil prices rise. So far this year, West Texas Intermediate has averaged $50 and change. Here's how the respondents to Evercore ISI's survey broke down in terms of what average price they would need to pull the trigger on even more spending: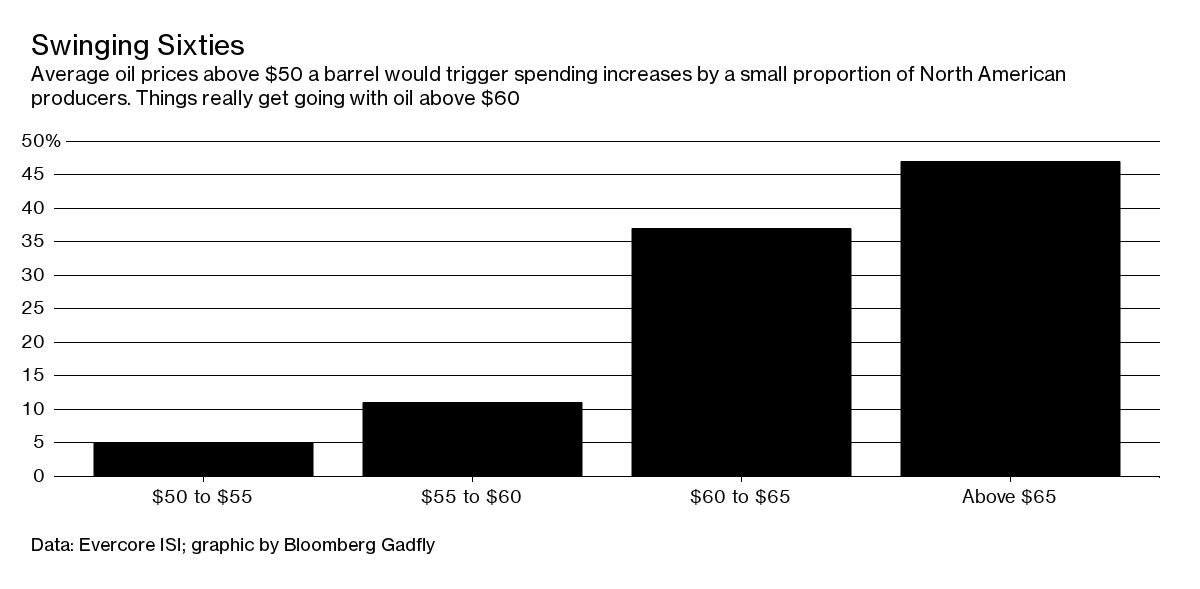 That band of $60 to $65 a barrel is important not just because it would tempt more than a third of respondents to raise their drilling budgets. Evercore ISI also found the vast majority of them would increase spending by 10 percent or more. In other words, companies deciding to drill more wouldn't hold back.
Conversely, the survey found that while budgets would hold steady at an average oil price of $45 to $50, almost 60 percent would cut back if that range dropped by just $5.
The oil bull — pretty rare outside of OPEC press conferences these days — looks at those data and maybe thinks the following:
Average oil prices might have to rise to $60 a barrel before shale producers really open the taps;
Oil has averaged about $50 so far this year;
Therefore, to get to an average $60 a barrel in 2017, futures through the rest of the year would have to average almost $74 …
… and since right now they're averaging about $44, why am I wasting time thinking about it when I could be loading up on futures?
Clearly, not many are thinking that way.
The bigger point, and the one which should bother Saudi Arabia the most, is just how narrow that range is between euphoria and despair in North America's oil business: essentially, $45 to $60 a barrel. Trying to steer the oil market through a gap that small is tough even when you're the de facto head of OPEC.
What makes it even harder is that, as my colleague Julian Lee pointed out this weekend, Saudi Arabia and the rest of its conclave have proven to be consistently blindsided by the shale boom. Meanwhile, OPEC is fractured by economic and (worsening) geopolitical divides; hence the resort to relying on the likes of non-members such as Russia to give the supply cuts some semblance of credibility.
On top of this, even if Saudi Arabia and its friends help to push oil to $65 a barrel, that still doesn't close the deficit that's opened up in the country's budget. While Saudi Arabia's breakeven oil price — where it is no longer burning through its foreign exchange reserves — is falling, it is still north of $80 a barrel, according to Bloomberg Intelligence: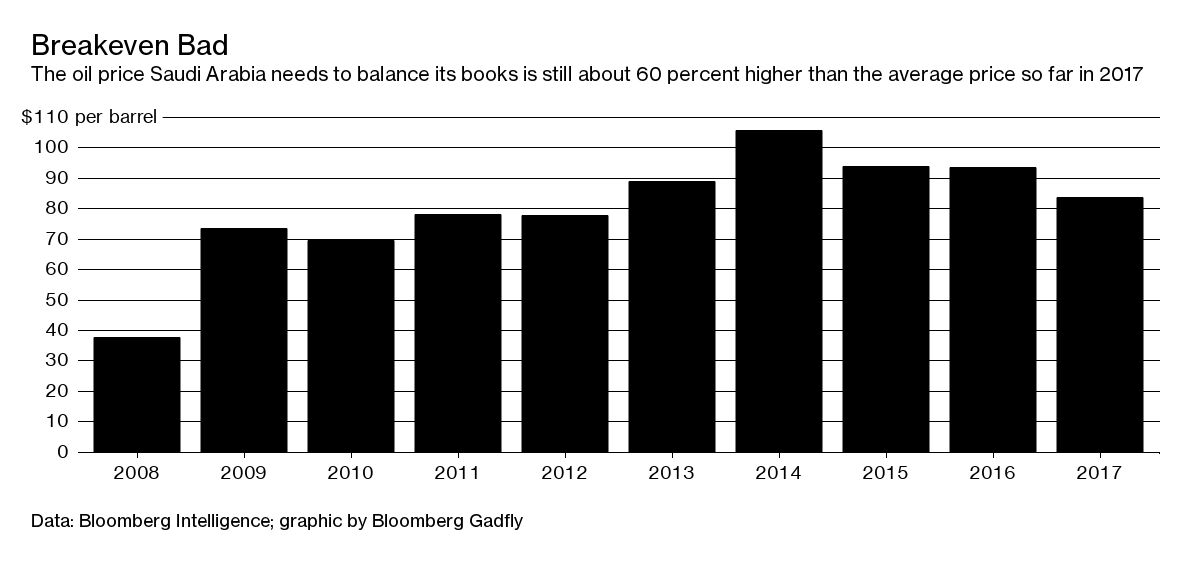 So on top of the existing challenge of trying to raise prices without stoking the party in Texas, Saudi Arabia must also cut its own cost structure — just like the shale producers have been doing — and fast.
Doing that, and thereby ensuring it can live with lower oil prices, is the only viable long-term strategy Saudi Arabia has (albeit a risky one, given that redistributed oil rents are the lubricant keeping the machinery of the country from breaking down).
In the meantime, Saudi Arabia can keep saying it will do "whatever it takes" to clear the oil market's glut, dangling the prospect (however unlikely) of even bigger supply cuts coming through. But the truth is, shale's sensitivities give it very limited room for maneuver.
Comments