Saudi Arabia has issued Qatar with a list of 10 demands it must meet, after Riyadh and other nations in the region took the unexpected step of cutting off ties to the tiny kingdom, accusing it of supporting terrorism.
Kuwaiti mediators flew to the Saudi capital on Tuesday, where diplomats conveyed extensive demands of Doha, including cutting off all links with Iran and expelling resident members of Palestinian militant group Hamas and the pan-Arab Muslim Brotherhood.
Other points included curbs on the freedom of Qatar's state-funded broadcaster al-Jazeera, which its Gulf neighbours have accused of slander and 'fake news', orders to stop "interfering" in foreign countries' affairs and to cease any funding or support for terrorist organisations.
Qatar vehemently denies all these allegations.
The list of 10 demands that the government of Qatar must meet to restore friendly relations:
Saudi Arabia's foreign minister demanded on Tuesday that Qatar respond to its ultimatum "soon," if the leaders of the GCC were to meet to discuss further reconciliatory action.
It was with "great pain" that his country and others took measures against Qatar, said Adel al-Jubeir,  but it was the aim of "restoring relations to how they were in the past".
The minister spoke to media after meetings with his German counterpart in Berlin.
An Emirati diplomat took a harder stance on Wednesday, telling the Associated Press "there's nothing to negotiate" with Qatar.
Doha has "chosen to ride the tiger of extremism and terrorism" and now needs to pay the price, said Emirati Minister of State for Foreign Affairs Anwar Gargash, in a signal that some involved in the standoff are not willing to negotiate.
The UAE's justice ministry warned social media users on Wednesday that any expressions of "sympathy" for Qatar could result in between three to 15 years in prison, as well as hefty fines.
The closure of the tiny energy-rich kingdom's sea, land and air borders with its neighbours has effectively left Qatar under siege. Panicked citizens have cleared supermarket shelves of produce, the country's stock market has plummeted, and Qatari nationals living abroad have been given 14 days to leave.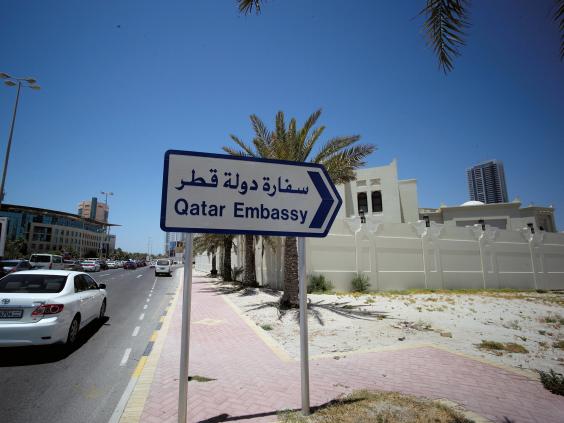 Doha's Hamad International Airport has been eerily quiet since Riyadh led the charge in revoking state-owned Qatar Airways' operational licences.
The airline has been blocked from landing in the affected countries, and Al-Jazeera offices have been shut down by authorities in Saudi Arabia and Jordan.
Doha has long been considered "rogue and maverick" by its neighbours, said Emirati Sultan Sooud Al Qassemi on Wednesday. Its citizens must "question if this is going to end up in seeing a change in leadership itself," he added.
On Wednesday, several Gulf diplomats suggested their complaints about Qatar go back years, implying criticism of Sheikh Hamad bin Khalifa Al Thani, who took over as Qatar's emir in 1995 and greatly expanded his nation's international influence through negotiating hostage releases, briefly flirting with diplomatic ties to Israel, hosting controversial groups such as Hamas and the Taliban and creating Al-Jazeera.
Sheikh Tamim bin Hamad Al Thani, his son, became Qatar's ruling emir in 2013.
The latest row is the worst to affect the region since Qatar drew ire across the Gulf by publicly backing the Muslim Brotherhood in Egypt in 2014.
Aside from the terror support allegations, it has been sparked by other factors such as anger over "fake news" distributed by Qatar's state-run news agency last month – blamed on Russian hackers – and Doha's April decision to pay a colossal $500m (£389m) in ransom money to Shia paramilitaries in Iraq for the safe return of several members of its Royal family, kidnapped on a hunting trip.
Full article: http://www.independent.co.uk/news/world/middle-east/qatar-crisis-saudi-arabia-gulf-demands-diplomatic-ties-uae-bahrain-egypt-us-united-arab-emirates-a7777651.html
Comments