A huge fire broke out on Sunday at Saudi Arabia's Al Batha Border Customs Checkpoint near UAE's Al Ghweifat border.
Several videos which have gone viral on social media captured flames burning through warehouses and goods in large quantities.
Black smoke billowed over the region, filling the skies above, as reported by Arab media sources.
The fire incident, which happened for the second time in the last 10 years, engulfed dozens of trucks, goods and imported cars.
For its part, the Saudi Customs Authority confirmed in a press release that "the fire at Al Batha broke out in a checkpoint warehouse, which did not affect the commercial movements in the port."
The statement added: "At 12:30 pm on Sunday, smoke rose from a warehouse in Al Batha, and the Civil Defense teams at the port were immediately notified."
"The customs area was cleared of all trucks and vehicles. The fire was contained in the initial area of conflagration. Items burned in the blaze included paints, oils, clothes, batteries, paper towels, cars, trucks and confiscated cars."
Customs confirmed, "Civil defense teams from Al Batha, Salwa, Al Ahsa and firefighters from the border guards at the port were called in for assistance.
"The fire did not affect commercial movement in all customs departments, including the export department. Incoming and transit goods were slightly delayed, but passenger movements continued as normal. Investigations are underway to determine the reasons for the fire."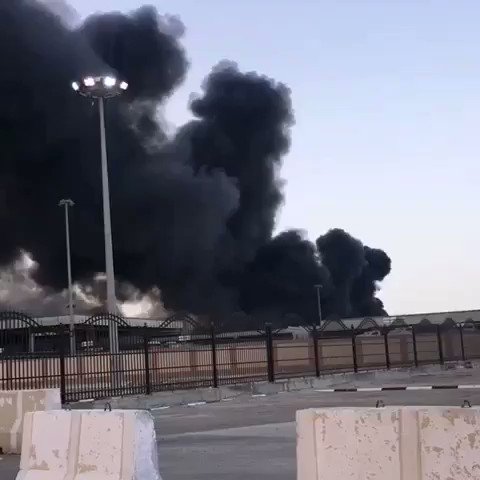 Civil defense forces were also called in from Dhafra Municipality in Abu Dhabi, supporting their Saudi counterparts in controlling the fire.
Source Credit: Khaleej Times
Comments