The United Arab Emirates is taking its most drastic steps yet to stop Saudi Arabia or Qatar from encroaching on its lead in attracting foreign investors.
In an unprecedented departure in policy, the U.A.E. will soon allow foreigners to fully own their businesses in Dubai or Abu Dhabi without a local partner. In some cases, professionals will even be entitled to 10-year residency permits.
More than anything, the country's decision shows how the economic interests of the six oil-producing Gulf Cooperation Council are diverging as crude's dominance wanes. To survive a global shift away from fossil fuels, they'll not only need money and talent, but they'll also have to compete with each other to get it.
"The U.A.E. needs to keep pace or stay ahead if it doesn't want to lose its competitive advantage," said Khatija Haque, the head of Middle East and North Africa research at Emirates NBD PJSC, Dubai's biggest bank. "When oil was at $100 a barrel for several years there wasn't that much need to attract foreign investment. Clearly that has changed."
For a long time the U.A.E. resisted giving the foreigners who dominate the workforce too much clout. Restrictive visa rules meant skilled workers could only stay in the country if they were employed. Unless their businesses were in free zones like the Dubai International Financial Centre, they'd need a local partner to hold 51 percent.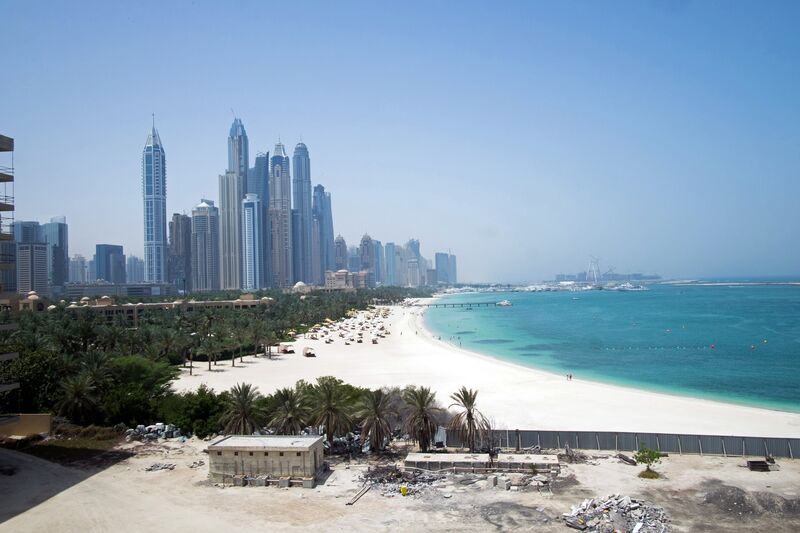 Under the new U.A.E. rules, which take effect by year-end, non-Emiratis can control 100 percent of a company anywhere in the country, forgoing the requirement to have a local partner outside of free zones. Professionals working in medical, scientific, research and technical fields and top students could be eligible for residency permits of up to 10 years.
"Explaining the local ownership structure has also always been a nuisance when raising money from international or even regional investors into businesses that had mainland operations in the U.A.E.," said Khaldoon Tabaza, the founder of investment company iMENA, which invests in several U.A.E. and regional tech startups. The new framework "reduces the cost of doing business in and out of the U.A.E."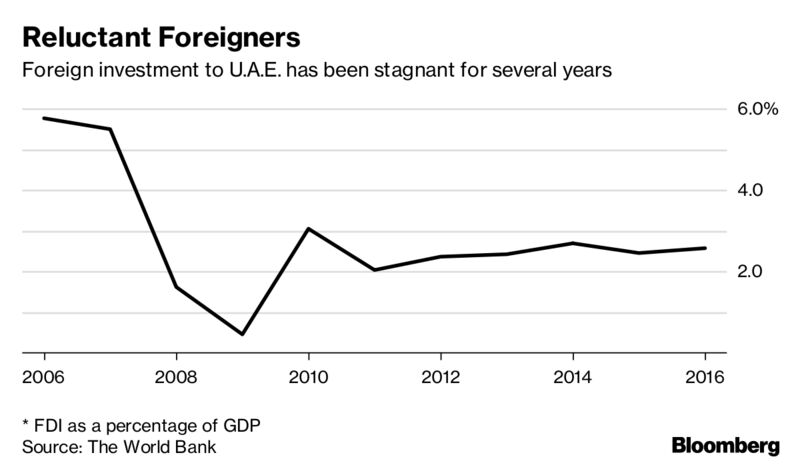 While the federation of seven emirates holds the lead in attracting investors in the Gulf, foreign direct investment dropped to almost $9 billion in 2016 from a peak of $14.2 billion in 2007, according to United Nations data. Some 12.9 percent of stocks traded in Dubai are owned by foreign funds, compared with 6.5 percent in Qatar and 5 percent in Saudi Arabia, according to exchange data compiled by the research arm of EFG-Hermes Holding.
Yet compare that to Turkey where foreigners own nearly 64 percent shares, or Brazil where they held close to 50 percent, and it's clear that foreigners are still wary of overinvesting in the Gulf's absolute monarchies—which adds to the pressure Gulf states are under to stay competitive. Most of them have been funding big budget deficits since oil collapsed in 2014 and economic growth is lagging the average for emerging markets.
"This will give the U.A.E. a stronger edge compared with the region," said Nabil Al Rantisi, managing director at Daman Investments in Dubai. "The neighboring countries still have a long way to go in developing their infrastructure."
Comments