The UAE's Emirates Airline has been fined by a New Zealand court for "misleading" advertising of its business class flight.
The decision made by the country's Disputes Tribunal sets a precedent in the way airlines promote their inflight experiences.
The airline has been ordered to pay Mark Morgan, a New Zealand resident, $8,440 after he challenged Emirates for its advertising in New Zealand.
Morgan claimed that he saw advertising for flatbed seats featuring minibars and updated entertainment systems before purchasing a business class ticket for a trip from New Zealand to the United Kingdom with his wife.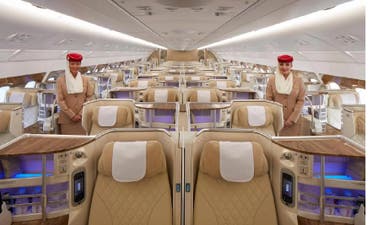 However, instead of the promised product, Morgan's flight was operated by an Emirates 777-300ER, featuring the carrier's most outdated business-class product.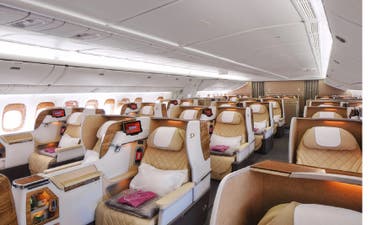 These seats don't have minibars and are not fully flat. Morgan argued that this was false advertising, as Emirates doesn't advertise the product that it actually offers to New Zealand.
Emirates contended that it has the right to modify the type of aircraft operated on specific routes due to operational necessities, as aircraft type is not guaranteed under its customer contract. Moreover, the airline maintains that it must utilize this particular aircraft for its New Zealand route as it is currently unprofitable.
Disputes Tribunal referee Laura Mueller sided with the travelers, deciding that "this was the result of advertising a service that they were rarely delivering, not due to an occasional or one-off change of aircraft due to operational requirements. The promotional materials were based on an updated/new business class seat and service that is not in place in the older aircraft that Emirates flies to NZ."

"The Fair Trading Act 1986 prohibits misleading and deceptive conduct in trade. The advertising of a service that Emirates knew would unlikely be delivered is misleading and deceptive."
As a result of the ruling, the Disputes Tribunal ordered Emirates to pay the travelers $8,440.
Emirates claimed that the service offered was only a 5 percent reduction in quality compared to what was advertised and offered a refund of $484.
However, Morgan sought a partial refund for the price of the ticket, plus a refund for the price he paid to upgrade to first class for one leg of the journey so he and his wife could get lay flat seats in order to be able to sleep.
The Disputes Tribunal ruled that $8,440 reasonably and fairly reflected the difference in service advertised and paid for versus the service received.
This ruling raises the question of how airlines advertise their products to customers. Many airlines advertise their newest and best products, but only operate them on select routes or flights. This means that customers who purchase a premium product may not receive what was advertised, as they may end up on an older aircraft with an outdated product.
Comments