Spry Community Links High School, in the Heart of Little Village in Chicago, says its vision is to "provide a challenging and supportive environment…to enable our students to succeed in the 21st century."
Number one on the school's focus list?
"Increasing reading and math scores to or above grade level."
But a look at state data that tracks reading and math scores for each Illinois school reveals two frightening facts about Spry. Not a single one of its 88 kids at the school can read at grade level. It's the same for math. Zero kids are proficient.
Spry is one of 30 schools in Illinois where not a single student can read at grade level. Twenty-two of those schools are part of the Chicago Public Schools and the other eight are outside Chicago.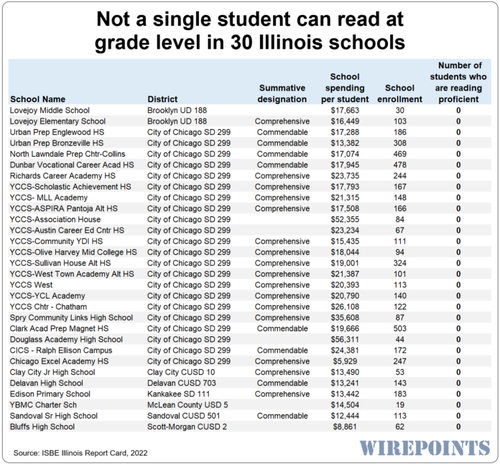 The failure list in math is even longer. There are 53 schools statewide where not one kid is proficient in math.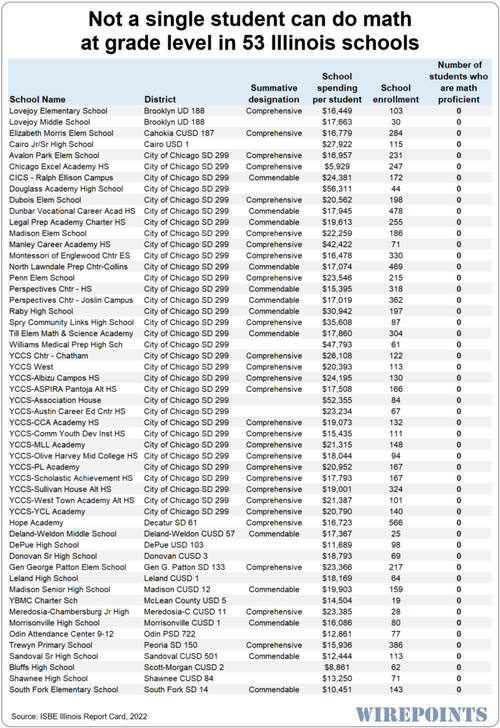 The data comes straight from the Illinois State Board of Education. The failure isn't about money, either. Data from the Illinois State Board of Education shows spending at Spry was already at $20,000 per student before the pandemic. Today it spends $35,600.
What's really incredible is that many of these schools are rated "commendable" by the Illinois State Board of Education. That's the 2nd-highest of four "accountability" ratings a school can receive.
In a sane world, schools that don't and can't teach a single student the most basic of skills would be shut down. But here, they carry on…the system thrives while students wither.
Comments