With its stock price at record lows…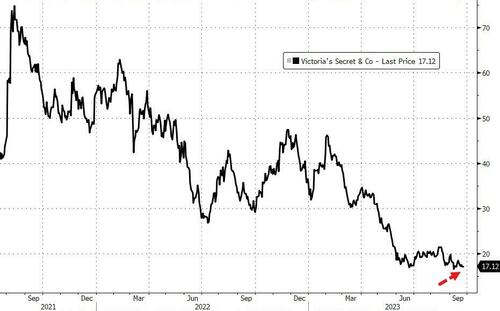 …and sales down a stunning $1.8 billion since 2018 (revenue for its last full fiscal year fell 6.5%, with net income down nearly half)…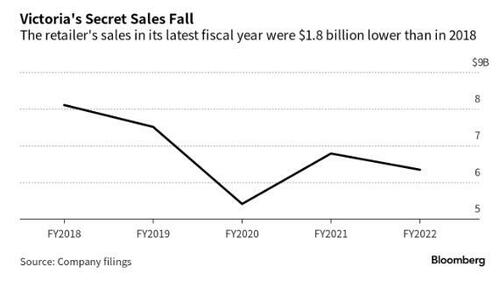 Victoria's Secret has certainly paid the 'Bud Light' price for its 'Go Woke, Get Broke' business model shift away from 'sexy' lingerie to more "culturally relevant" marketing (code for plus sized women, transgender models, and androgynous fashion).
The decision to abandon their much-watched "Fashion Show" – giving in to social justice warriors, many of whom live at home and don't even have the discretionary income to buy their products anyway – was apparently not a good business decision, and has left a string of failed executives in its wake, most infmaously, Amy Hauk, the leader who was named head of the Victoria's Secret brand in 2022 and touted ambitious plans to rebuild its product offerings… who then announced her departure after six months.
Despite SJWs pointing in 2019 to the sales decline as proof that the company had an image problem that was alienating customers, it seems more likely that coupled with consumers abandoning malls, where the retailer is massively exposed, it was more likely that the twin trends of e-commerce and fast fashion chipped away at the company's profits.
Victoria's Secret is still the dominant lingerie brand in the US, but the gap has shrunk as upstarts took advantage of its weakness. Sales at American Eagle Outfitters Inc.'s Aerie brand have grown 88% since the pandemic began, hitting $1.5 billion last year. Kim Kardashian's Skims label is on pace to hit nearly $900 million in annual sales, according to a person familiar with the matter, and executives are planning to open physical stores.
"Brand turnarounds don't happen overnight," said Morgan Stanley analyst Alex Straton.
"Abercrombie took a decade to turn around — Victoria's Secret is at that 10-year mark, too. Makes you wonder, are they at a turning point?"
And having been unable to dig itself out of this woke-hell-hole, Victoria's Secret is trying another tack: Revamping the televised fashion show that was a marketing marvel in its 2000s heyday.
Bloomberg's Olivia Rockeman and Kim Bhasin make clear hos they feel about the revamp of the fashion show: just the latest example of how much Victoria's Secret clings to a past that it is ostensibly trying to leave behind.
"We think Victoria's Secret has a partially formed view of what it does not want to be, but it does not yet have anywhere near a full view of what it wants to become," Neil Saunders, managing director of GlobalData Plc, said in a note to clients on Aug. 30.
"As such, it is stuck in some kind of blurry netherworld."
The Victoria's Secret World Tour, a feature-length film that is slated to air Tuesday on Amazon's Prime Video streaming service, is a bid to recapture some of the retailer's Angel wings-era luster while incorporating more diverse models and designers.
And it's those last few words that Bloomberg uses to describe the event that has us wondering, will today's show leave viewers needing "happy tissues or sad tissues…"
Comments