World
TikTok Continues To Dominate the World's Most Downloaded Apps
In a digital age where most people interact with the world through digital apps residing on smartphones, it's helpful to break down the global addiction.
According to a treemap from Truman Du, TikTok took the crown in 2022, beating out notable contenders from social media giants, Visual Capitalist reports.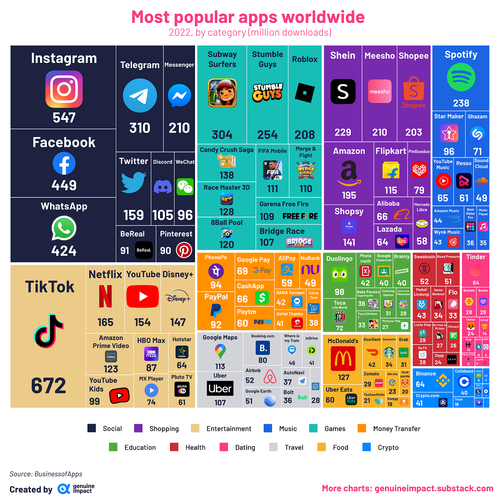 With a staggering 672 million downloads in just one year and its revenue doubling to an eye-watering $9.4 billion speaks volumes of its commercial success from the foreign app – a feat made even more remarkable considering the geopolitical hurdles it faces; being a rare Chinese export that has captivated international markets. Yet, despite its unprecedented global appeal, it remains barred in significant markets like India, and has even faced temporary bans in places like Pakistan – a testament to its disruptive impact in the tightly-contested digital arena.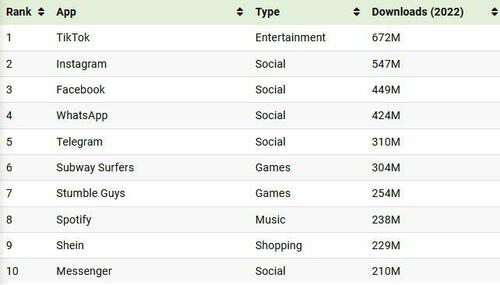 Meanwhile, the other contenders in the top five most-downloaded apps of 2022 are dominated by the social media juggernauts of Meta, with Instagram, Facebook, and WhatsApp showing that old guards still hold significant sway in the digital domain. This dominance of social media platforms reflects a society ever-hungry for connectivity and digital interaction, a craving only intensified by the isolating clutches of the COVID-19 pandemic. Even Facebook Messenger, tying for the 10th spot with the shopping app Meesho, underscores the diverse digital appetites of today's netizens – from socializing to shopping, the digital ecosystem is evolving rapidly. It's a world where staying relevant means staying ahead, and only the apps that adapt to the relentless pace of change will survive in this cutthroat digital jungle.
Comments