World
US Troops in Iraq Under Fresh Drone Attacks After Iran Said "Time Is Up"
The US military thwarted a drone attack on its troops stationed at Iraq's Ain Al-Asad base on Wednesday, according to two officials .
No group claimed responsibility for the attack in the immediate aftermath, however, Iran-aligned Shia paramilitary factions are widely suspected. They have warned that the spiraling war in Gaza could make US troops "legitimate military targets."
The attack came hours after the bombing of al-Ahli Baptist Hospital in Gaza, which reportedly killed between 200 and 300 people, widely blamed on Israel amid its ongoing air campaign. But President Biden on Wednesday in Tel Aviv said the US agrees with Israel's assessment that it was an errant rocket fired by Palestinian Islamic Jihad (PIJ).
One Iraqi faction did appear to indirectly own up the drone attack in the following:
"Our missiles, drones, and special forces are ready to direct qualitative strikes at the American enemy in its bases and disrupt its interests if it intervenes in this battle," Ahmad "Abu Hussein" al-Hamidawi, head of the Kataib Hezbollah militia, said in a statement last Wednesday. He also threatened to launch missiles at Israeli targets.
This has put the whole region on edge, and with hundreds of US troops still in Iraq but also occupying northeast Syria, fresh attacks on their positions by Iranian-linked factions could be unleashed.
There was a follow-up drone attack: 
Later on Wednesday another drone attack targeting the al-Harir air base, which houses U.S. forces in the northern Iraqi city of Erbil, was also foiled, an Iraqi security official and a Western diplomat said.
A little known group called Tashkil al-Waritheen, or the Inheritor, claimed responsibility for the attack on al-Harir.
On Tuesday, Iran's embassy in Damascus cryptically tweeted out the message "Time is up" – in a statement which portends a greater regional uprising aimed at the US and Israel. Indeed this is already happening to some degree especially inside Jordan and Lebanon.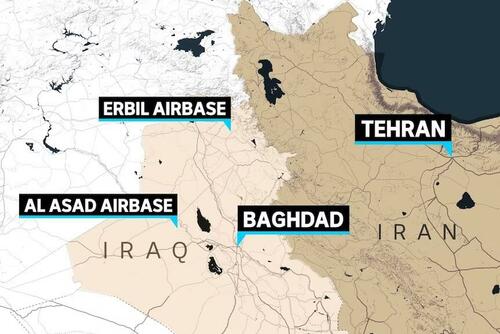 But the potential for significant battles could be brewing in Syria and Iraq. Likely the Pentagon has these bases on high alert. In Syria, the Assad government has long sought ways to force the US occupation's exit. Turkey too wants to see the US bases gone especially due to Washington's backing of the Syrian Kurds.
Comments