Abu Dhabi updated the rules around entry to the emirate for all Emiratis and residents within the UAE, as well as residents of the emirate returning from overseas.
The new rules, published by the Abu Dhabi Emergency Crisis and Disasters Committee and the Department of Health, will come into effect from today, November 8.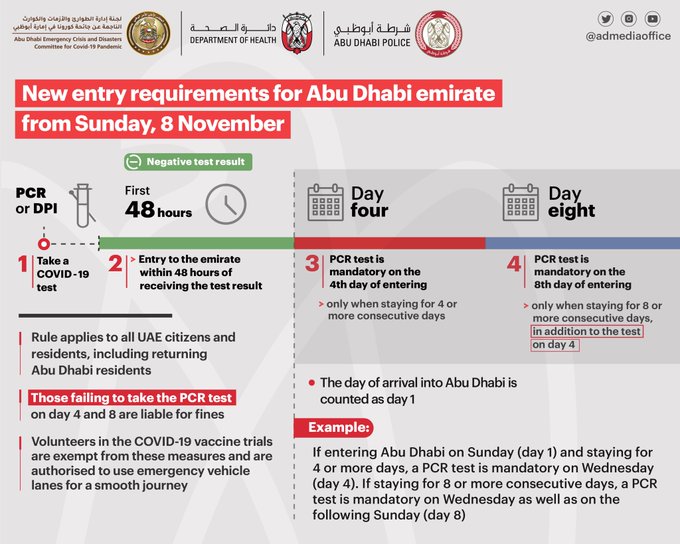 Before Entry
All those seeking to enter the emirate must take a Covid-19 PCR or DPI test prior to their arrival. Entry to the emirate shall be made within 48 hours of receiving the result.
Day four
Those who have entered need to take a mandatory Covid-19 PCR test on the fourth day, if they are staying for four consecutive days. It added that day 1 is counted as the day they arrive in the emirate.
Day eight
Additionally, another Covd-19 PCR test will be required to be taken on the eighth day if they are staying for eight consecutive days. This is in addition to the test taken on day 4.
Citing an example, it said if a person entered Abu Dhabi on Sunday (day 1) and stayed for four or more days, they would need to take a PCR test on Wednesday, and then another PCR test on the following Sunday if they are staying for eight or more days.
The officials added that those who failed to take the PCR tests on day 4 and day 8 would be liable for fines.
The current requirement to undertake a PCR test on day 6 will not be required for entries from November 8.
Volunteers in the UAE's Covid-19 ongoing vaccine trial are exempt from any of the above rules, and in addition are permitted to use the emergency vehicle lanes when driving into the emirate.
Comments